The Bachelor Season 25 Episode 1 Recap : )
FOLKS, HISTORY HAS BEEN MADE. FOR TWENTY FOUR SEASONS OF THIS GOD-FORSAKEN SHOW WE HAVE WATCHED MEDIOCRE WHITE MAN AFTER MEDIOCRE WHITE MAN GET SHUFFLED THROUGH THE BACHELOR SYSTEM AS THE LEAD, BUT NOT ANYMORE. Season 25 brings us our first ever BLACK BACHELOR, MATT JAMES, AND I COULDN'T BE MORE EXCITED AFTER WATCHING THE FIRST EPISODE!!!! We are in for a GREAT season folks!!! Especially after the fever dream that was Clayshia's season of The Bachelorette (S16)…. I'M SO FUCKING PUMPED.
The first few minutes of the show are usually a trailer/first look at the ending and all the cliffhangers we'll wait the whole season to resolve (Colton jumping the fence, "Bring her home" sobbing from PP's (Pilot Pete) mom, etc.), and while we still do have that climatic inflection point moment the whole season looks to lead up to… We don't get that promo until the end of the episode… inSTEAD, we get Katie's entrance with the fucking VIBRATOR. NOW, IDC HOW GOOD UR LIMO EXIT IS, I DO NOT REMEMBER THIS HAPPENING EVER IN THE HISTORY OF THE SHOW VS. THE PROMO INTRO TRAILER.
And I'm SEX POSITIVE, OKAY??? The actual idea of bringing a vibrator and her line is HILARIOUS AND AMAZINGGGGGGGG!!! OUTSTANDING PLAY, KATIE!!!! But The Bachelor putting it at the TOP of their show… kinda diminishing building the hype out of Matt James and his season… THAT SHIT PISSES ME OFF.
The Bachelor franchise has had a HORRRRRRIBLEEEEE history of slut-shaming their Bachelorettes & women contestants for engaging in the same sexual acts and behavior as the men on the show… Let's take a quick pit stop at the history of Bachelor franchise slut-shaming women…
Jillian Harris Hot Tub "Scandal"
One of the first notoriously slut-shaming moments to me (Don't get me wrong, I'm sure there were more before this but I haven't been privy to those early seasons) was when Jillian Harris and Jason Mesnick had a steamy hot tub scene where sex was implied… Jillian got a lot of flack for this, but she responded by saying basically… why are y'all coming at me when we can "also assume that every Bachelor and Bachelorette in history has done it with people." ExACTLY, it's like… viewers are okay with the sex implied in the "Fantasy Suite" dates… but if there's ever a moment there's a hook-up outSIDE of those bounds in the show… it was suddenly extremely controversial, and mostly because the woman was a "slut"…
Clare Crawley Sex-in-the-Ocean "Scandal"
Then we have Juan Pablo slut-shaming Clare for hooking up with him in the ocean, saying his daughter would be watching the show and he was disappointed in her…. HELLLLLLL, NO, JUAN. IT TAKES TWO TO TANGO. NO ONE IS A SLUT. WOMEN AND MEN CAN DO WHATEVER THEY WANT WITH THEIR BODIES AND IF IT'S CONSENSUAL THEN STFU.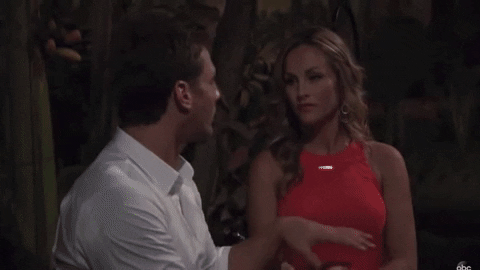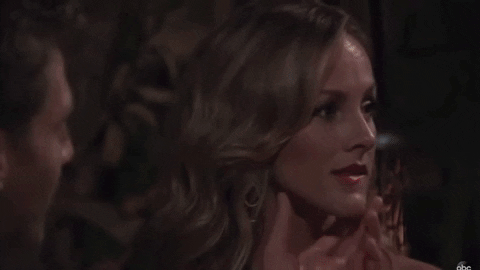 Kaitlyn Bristowe Pre-Fantasy-Suite-Sex "Scandal"
A third example was the slut-shaming of Bachelorette 11, Kaitlyn Bristowe, for having sex with Nick Viall before the fantasy suites… As a PUNISHMENT she had to spend the REST OF HER SEASON IN IRELAND…. The producers have some bullshit excuse about scheduling and some shit getting messed up, but I'm like NO, YOU GUYS PUNISHED HER. AND MIKE FLEISS PUNISHED HER BY NOT LETTING HER BE ON DWTS AFTER HER SEASON IN 2015 AND THEN SHE FINALLY GOT ON THIS LAST SUMMER 5 YEARS AFTER HER BACHELORETTE SEASON AND WON, SO YEAH. All three women got intense hate and scrutiny online for these acts when… in every case… a MAN was on the opposite consenting side… and he was getting no hate! The misogyny runs deeeep with this one (The Bachelor franchise).
So yeah… Don't just use some clip with a vibrator you think will get viewers and draw people in iNSTEAD of giving Matt James, the first Black Bachelor, the hype he is OWED AND DESERVES, especially when the franchise hasn't been sex-positive for women for its entire EXISTENCE. It just hits a nerve… but the ACTUAL act on Katie's part was sheer brilliance… please, don't get me wrong.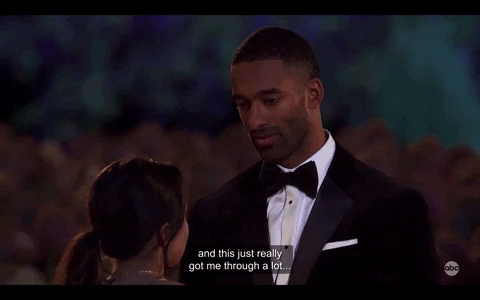 Now we get our gassing up the lead segment – They're lot's of hot sexi shower & shirtless shots of Matt, more like a Sean Lowe or Colton, less like PP who only had the one shot of him shirtless washing the plane of him shirtless or some shit, lmao.
Matt is a HOT, FIT, FUN, an all-around NICE guy. He lives in NYC doing commercial real estate, and he talks about working with his charity, "ABC Food Tours", which aims to engage underprivileged youth in mental and physical well-being through touring restaurants and physical activities. Matt says working with this charity is one of the best things he's done. My favorite thing about Matt is his LAUGH. Even if it is fake sometimes, it never SOUNDS like it. It's just one of those laughs that makes YOU laugh, and those are the best.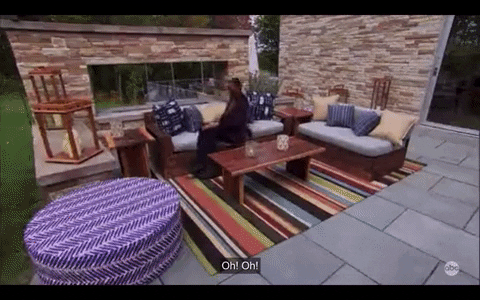 Then he starts to get into his "PTC", otherwise known as "Personal Tragedy Card" (coined by Game of Roses podcast) which every player (or every GOOD player), including the lead, has to have in their back pocket to drop on the person they're pursuing to gain the trauma bond i.e., how you think you can marry someone after two months. Matt's PTC is that he grew up in a broken family with just his single mother and older brother. He's a product of an interracial relationship: his mom is white, and his dad is Black.
Matt says he loves his mom and that "she did a great job", but that he's struggled with knowing what a good relationship looks like, and how to open up and be "vulnerable".
CUT TO – A sit down chat between Matt & his white mom, and his mom asks him, "So when do you think the last time you were vulnerable was?" LMAOOOOOOOOOOO. I oBVIIII know this is all planned but it's still hilarious to see these real people try to be actors, like, what in the got dam HELL kind of question is that?!
And I can't help but be watching how the Bachelor franchise deals with the issue of race this season, having their first-ever Black Bachelor, and one of the most racially diverse casts they've ever had… with a VERY close eye. I'm WAITING for them to trip up, cuz guess what?? With their previous record of mishandling everything when it comes to race on the show… they are on THIN ICE, BUDDY.
So yeah! I'm gonna be extreememememeeely attentive and critical… and I can't help but to already think… Why are we seeing a sit down with the first Black Bachelor and his white mom? His dad is not in his life, so it makes sense he would be having this conversation with his mother, and I do believe they have a really strong relationship. It's the fact that The Bachelor has chosen to show this conversation at the beginning of the show with his white mother in his intro package… Besides PP, who was up to his family's butt, we usually don't see much of the family in the intro package, and if we do, it's in a passing scene, not an actual… pre-show interview…
When they announced Matt as the next Bachelor for season 25, and the first Black Bachelor, again, they had his mom on as part of the announcement… Rachel Lindsay noted this same thing in a Bachelor Party podcast this summer when the Matt James Bachelor announcement was made. She questioned why the white mother was shown because she couldn't remember a mom ever being a part of a GMA announcement… It's just a questionable thing that the franchise seems to be pushing the white mom thing, like, yeah he's black, but LOOK, his mom is white!! He's not "scary", he's just like us!!!!!!!!!!!
I'm glad they have a sweet little relationship, I'm not trying to undermine that, I'm just questioning the show's motives and methods…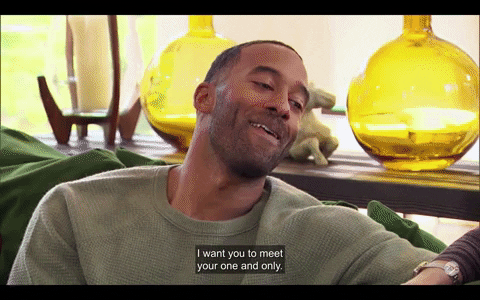 Also, this season is shot at the Nemacolin Resort in Farmington, Pennsylvania… This season was filmed in another "Bachelor bubble", similar to how Clare/Tayshia's Bachelor season was filmed exclusively at the La Quinta Resort, in Palm Springs, CA. Similarly, Matt Jame's Bachelor season was all shot in a bubble at the Nemacolin, and DAMMMMMMMMMMMM, DOES IT LOOK LIKE GREAT GATSBY'S HOUSE. A LITTLE PARTY NEVER KILLED NOBODY (Spoilers: UNTIL IT KILLED GATSBY)
CONTESTANT INTROS…
Alicia
Don't give any of this much weight… they always fake you out by showing a few players that go home night one (ex: Alicia), soooo I'm just gonna find the best parts to make fun of… Also, usually, they're shot in each of the player's hometowns? So they're at least… visually exciting? All these girls' intros are shot in hotel hallways and/or self-shot, LOL, NO THANKS!
LMAOOOOO, The producers are like, "Okay, Alicia, you start down at this end of the hallway and then do your pointe shit towards the elevator, got it?" LMAOOOOOOOOOOOOOOO, THIS IS THE SILLIEST SHOT.
Abigail
Abigail explains how she was born completely deaf, and if she takes her cochlear implant off she can't hear anything at all. She just seems very sweet and genuine (#rightreasons), and has had a real challenge in her life she's had to deal with and overcome??? LOVE it.
Kristin
Kristin, a lawyer from Jersey City, says she "has to be professional", but "at a certain point, you just want to go out." Reminds me of the time one of my coworkers told me she has a constant loop in the back of her head wishing she was at the club, lmao, I'm like okay WHAT.
Magi
Magi moved to America from Ethiopia 9 years ago to get her doctorate in pharmacy, and she graduated just last year!!! Pop OFF, Magi! You are so damn BEAUTIFUL. (She is also a model, girl can do it ALL)
Sarah
Sarah Trott is/was a broadcast Journalist i.e., a TV NEWS REPORTER in San Diego, CA until she moved home when her dad was diagnosed with ALS, or Lou Gehrig's disease, a terminal illness. Very sweet and noble of you to do, Sarah, sincerely!
… and DAMNNNN does she look like the exact combination of Krystal from Arie's season and Victoria P. from PP's season….
We see a shot of the ladies all walking out to the limos to meet Matt and one calls out, "Game time, ladies!!!" THIS IS A GAME. DONT GET IT TWISTED.
First, Matt arrives in his limo and steps out on the red carpet leading him up to the gatsby mansion where Chris Harrison is waiting for him. Matt greets Chris, to which Chris replies, "Damn! You're tall." Matt says, "*ha ha ha ha ha* with his hearty chuckle and replies, "No, I get that." LMAOOOOOOOOO. It's like when someone used to tell me I'm sunburnt during school I'm like… BITCH R U KIDDING… DO U THINK I GOT IT FROM THESE FLUORESCENT CEILING LIGHTS???? NO, I GOT IT THIS WEEKEND SO I ALREADY KNOW, STFU.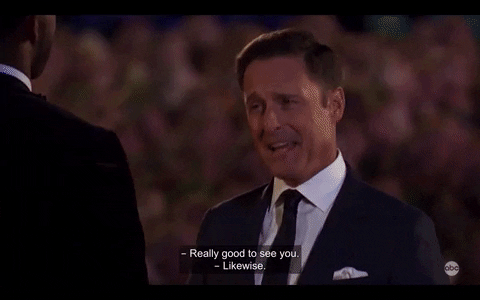 Now…. this is a confusing interaction … it's like… what… what is going on?… Chris essentially tells Matt the time is now to meet the women, and the music is rising… Matt looks uncomfortable and nervous, and he's, like, uhhhh, you know this is my first time doing this, I'd love to ask you a few questions first, and Chris is like you don't want to meet the girls? LOL, YEAH I'M OUTTIE, CHRIS, I JUST DECIDED. LIKE, CHRIS, WTF, NOOOOO.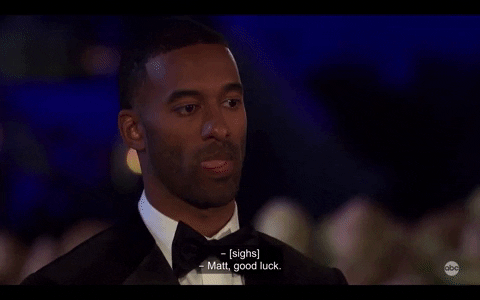 Matt James, do you reallllly NEED TO SOLICIT ADVICE FROM REPUBLICAN WHITE MAN CHRIS?… and WAS THIS NOT PLANNED? WHY DOES CHRIS SEEM SURPRISED?
They go inside to sit down in this Clue(board game)-ass library and – HAHAHAHAHAHAHHAHAHAHAH – Matt is like… you know, Chris…. I'm just kind of nervous because I've never been on the other side of this thing… can you give me any hot tips on what to expect for night one??? Chris responds, "You know… there's a phenomenal chance you're going to meet the woman of your dreams" (NO THERE IS LITERALLY NOT, LMAOOOOO. BACHELOR SUCCESS RATE IS LIKE 5% I.E., ONE OUT 25 SUCCESSFUL BACHELORS LMAO), "You're gonna be engaged"… JESUS CHRIST, THE PROPAGANDA BEGINS WHEN THE MAN WAS TRYING TO ASK A SIMPLE QUESTION ON WHAT TO EXPECT!
"There's gonna be times you're gonna wanna choke me out…" they both laugh like HA HA HA HA, CHRIS COULD NEVER DO ANYTHING BAD… JUST YOU WAIT, MATTHEW.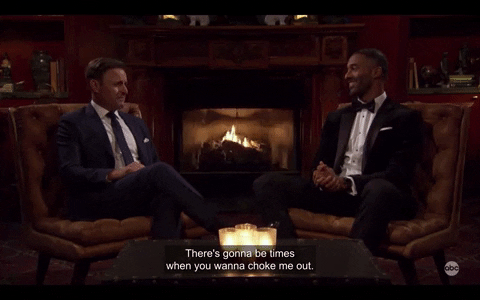 Matt says there's something else he wants to talk to Chris about… and that's the immense pressure of being the first Black Bachelor, and before Chris even replies I know this is not going to be good and I'm, like, NOOOOOOO, THEY SHOULD HAVE BROUGHT IN RACHEL LINDSAY TO HAVE AN HONEST, EARNEST CONVERSATION ON RACE AND WHAT IT'S LIKE TO BE BLACK IN THIS FRANCHISE – THAT WOULD HAVE BEEN AMAZING, NOT CHRIS REPUBLICAN HARRISON TELLING HIM AS LONG AS HE'S HAPPY THAT'S WHAT MATTERS … AND WOULD YOU LOOK AT THAT? CHRIS HARRISON SOLVED RACISM RIGHT THERE AND THEN!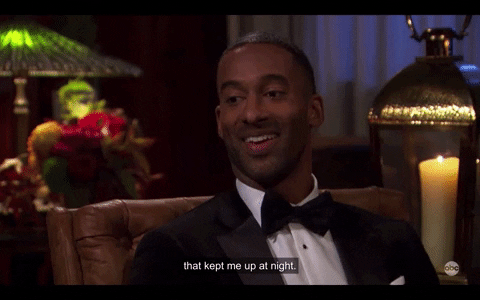 LIMO EXITS
The first few and last few limo exits are historically the most important exits to look out for… If they give you no more than 10 seconds on your limo entrance (they don't show you walking up and saying your name, just a random one-liner), you probably aren't making it too far in the game…
The very first person out of the limos is historically significant… (only included seasons I've watched which is why it's slightly random : )
| | | |
| --- | --- | --- |
| Season | First Limo Exit | Place Finished |
| Peter | Alayah | 16/30 |
| Colton | Demi | 9/30 |
| Nick | Danielle Maltby | 6/30 |
| Ben Higgins | Lauren B. | 1/28 |
| Chris Soules | Britt | 6/30 |
| Juan Pablo | Amy L | 16/27 |
| Sean Lowe | AshLee F. | 3/26 |
| Jake Pavelka | Rosalynn | 15/25 |
Significance of the First Limo Entrance Player by Season
Alayah on Peter's Season (S24)
Alayah was an early villain… She was eliminated in week 2, just to return the next week in the middle of an evening portion of a group date with ALL of the girls on it. Peter decides to bring her back… Let the chaos ENSUE.
Demi on Colton's Season (S23)
Demi's character was the villain/clown – She was the most entertaining player on the season, often getting in rifts with the older women for "being immature", but was still liked by many of her fellow contestants… She also went on to become the first player in Bachelor nation (with her then-girlfriend, Kristian Haggerty) to be in an on-screen queer relationship during season 5 of Bachelor in Paradise.
Danielle Maltby on Nick Viall's Season (S21)
Danielle gets the first one-on-one of the season and goes on to be one of Nick's top 6.
Lauren B. on Ben Higgin's Season (S20)
RINGWINNER – LAUREN B. WON THE WHOLE DAMN THING.
Britt on Chris Soules' Season (S19)
She caught Chris's eye first and got the first impression rose…She later became a bit of a villain in the season, getting the "wrong reasons" accusation from fellow contestants. She made the top 6.
Amy L. on Juan Pablo's Season (S18)
This appears to be the one instance (in my data set) that the first limo entrance is a random player… Amy L. was not particularly important at all and was eliminated in Week 2.
AshLee F. on Sean Lowe's Season (S17)
I don't remember her, TBH… But she was Top 3!!! So Significant!
Rosalyn on Jake Pavelka's Season
Rosalyn was "disqualified" and had to leave the show in week 2 after having an affair with someone on the crew of the show… DRAMA.
BACK TO MATT JAMES – The point is, the first limo entrance is typically a significant player on the season, HOWEVER, I WANT THIS TO BE THE RINGWINNER BECAUSE THEN I WILL HAVE CALLED THE WINNER FROM THE PROMO, LMAO… Bri is the first limo entrance and she is stunnnnninnnnnng in that silky green thing. He asks her what her name is, and she asks his back which I thought was cute (so did he, he chuckles).
NEXT OUT OF THE LIMO IS RACHAEL WHO I HAVE PREDICTED IN THIRD… She is very suave. She says she's nervous, but I don't get that sense.
Third, out is Sarah who also looks to be important based on the promos… As she's heading up the steps to walk inside she has a cute "look back at it" with Matt and OMG!!! That's cute.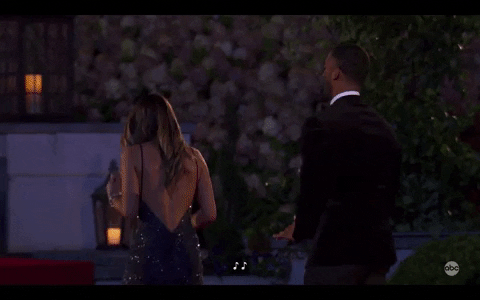 The next three all got their entire entrance on the screen (from car to Matt): Jessenia, Chelsea, and Mari (in that order)… meaning we can expect them to be semi-relevant players… Matt says Chelsea is "WEARING that dress", and as Mari is walking inside he says, "you ever meet somebody and you don't know what to say…" So needless to say… I think he likes them!
The next entrances go quick (one-liners), meaning they probably won't be too significant (probably, but not exclusively) – Magi (The pharmacist/model from Ethiopia), Carolyn (night one execution), Sydney, Kristin, and Anna… I think Anna will be the most significant as she's seen in a promo ITM shot and a crying shot? Kristin, Magi, and Sydney I think will all end up being mid-level/placing players.
We get a full entrance for the next player: Khalyah from North Carolina drives in with a white and blue pick up truck. Matt comes to inspect the truck with her, and asks if it's a stick to which she replies, "of COURSE, it's a stick". I loved that answer. I think she'll be maybe a top 10 or top 6 players?
The next few are pretty quick – Serena C. does an intentional trip and something about how she's "falling for him", Serena P. brings a stool to get on his level (this mofo is tall AF), Alicia dances out of the limo to Matt which his responds "Wow", LMAO. Saneh who is not memorable, and then Alana who … gives me witchy vibes but she looks/seems kinda different than the typical contestant so we'll see how her fate fares… She does the whole spaghetti lady and the tramp thing with Matt and then JUST LEAVES HIM WITH THE SPAGHETTI, HAHAHAHHAHA. He looks like a small child just holding this bowl of plain spaghetti HAHAHAHAHAHA.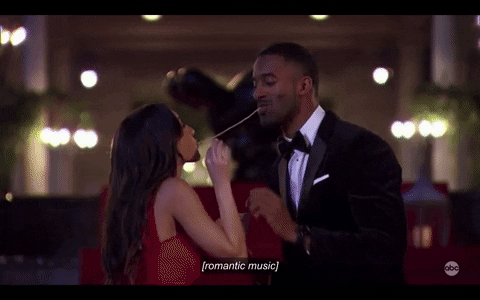 Kaila gets a whole scene because she comes in wearing lingerie and asking Matt which dress she should wear… I think she mostly got this screen time because it was a memorable entrance… However, I kinda feel like she will be a week 2-4 elimination.
And we're BACK, to where it matters, since we KNOW that ABIGAIL MATTERS (Our first impression rose recipient). She tells Matt how she was born deaf so she'll probably be reading his lips a lot, it's a very sweet interaction, you can see the chemistry from the get-go!
Okay, JK, back to burner players – Corrine (night one execution), Marylynn, Emani (night one execution), Lauren, and Pieper… Two are gone immediately, and I feel the other two are likely week 2-4 eliminations as well.
We have three quick entrances that all end in a night one execution – Amber, Kimberely, & Cassandra.
We have four remaining entrances that I believe "matter" (all these girls matter of course <3, in terms of their significance/ their character in the game, not them as a PERSON)… MJ, who pulls up in a pizza car and is very charming when the door she tries to open is locked. And saving one of their best entrances for last is Katie with the vibrator "passing the torch" as it's the only thing that got her through the pandemic, LOL. It is still a good joke.
Second to last comes driving in TWENTY-ONE YEAR OLD KIT IN A MOTHER FUCKING BENTLEY, (I ALREADY HATE THIS RICH BISH) with this "cool" music playing… She says she got "ride-share vibes" from the limos, so she called her own ride… OMGGGGGG, EVERY WORD SHE SAYS IS DRIPPING IN PRIVILEGE.
Lastly is my LEAST favorite player on this season so far – "Queen" Victoria… A one-thousand percent producer plant… This girl had Paradise signed before she ever set foot in Pennsylvania because this entire episode she is wreaking HAVOC. She gets carried in on a throne by … security people I guess? Ugh, it's just annoying and I'm over everyone being a "queen", ESPECIALLY as their job title…
FINALLY, it's time for Matt to go inside to meet his THIRTY-TWO WOMEN (Damn!)… Usually, the lead starts the night off with some sort of toast about how they're so excited, and how their husband/wife is in the room, but Matt does something slightly different: he says a (Christian) prayer… One girl says "Aw, I'm gonna cry" – YOU'RE GONNA CRY CUZ THIS MAN IS PRAYING, LMAO. HUSH UP.
Rachael acts very touched by his prayer, which is a GREAT play to pull the whole "I just felt so connected to you". Great work from Rachael, right out of the gate!
He first talks with Sarah, and they have a generic conversation, but you still know she's going to be a significant player.
Next, Rachael swoops in on him and they have a very seemingly comfortable/good conversation… Again, she makes another great play, really emphasizing she's there for the "right reasons" saying she wasn't sure about the whole experience, but that once she found out that he was going to be the Bachelor she was so excited, and she thought it would be cool for them both to go through the experience with each other for the first time. He is deff feeling her (calling her "beautiful, artistic, and sexy" in an ITM, and I am DEFF getting Top 3 vibes for SURE.
Serena P plays chess with him and I feel like someone does this every season but I can't prove it… I know I've used this Harry Potter gif before but how could I NOT.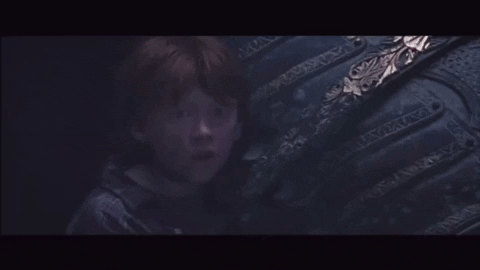 We get another made up Bachelor word (to add to the list of "befumbled" – Hannah Brown, "finansco" – Hannah Ann Sluss, and "ling-er-y" – Kiarra from Pilot Pete's season) Mari says it makes the situation "pressureful" and I'm not trying to make fun of her for saying the wrong word, because I PROBABLY WOULD TOO, but I just want to make sure we get our Bachelor history coRRECT.
In Mari's one-on-one time, she tells Matt she's from Puerto Rico and moved to America when she was 9. Matt asks her how that is for her family, which I thought was sweet and thoughtful, and she begins to reply when she gets RUDELY INTERRUPTED BY A DILDO TAPPING HER SHOULDER, LMAOOO. Who cares if that mofo is "clean" ya can't do that, LMAO. I guess this IS, TV AFTER ALL!!!
Khaylah does a sweet-tea toast in the back of her truck with Matt which I thought was a GENIUS first mini-date idea… She double-used her prop! For a grand limo entrance, and now a mini date… GREAT PLAY, KHALYAH!
Kit gives Matt a snow globe of NYC since they're "both New Yorkers", and Matt's like yeah I don't call myself a New Yorker, LMAOOOOOOOOO. One second later, they get interrupted by "Queen" Victoria who calls Kit a "princess" (obvious producer suggestion)… Kit is pissed saying she is the "CEO, president, king" in an ITM, and I feel like they're trying to make her like a Demi/Corrine character??? But I just find her incredibly dull.
And remember how she had 40K Insta followers pre-premiere?? That's because apparently, her mom is someone famous in fashion… So she's the daughter of a wealthy NYC fashion person and I'm just like… why are you HERE, YOU DON'T NEED THIS.
During Victoria's time with Matt, she is looking at him but she's NOT listening, LMAOOOO. Matt says how he feels like he's "drinking through the fire hose", to which she cuts him off, "What's that?" He goes on to mansplain the analogy which I thought… was pretty self-explanatory, lMAO, but NOT BECAUSE VICTORIA SAYS "SHE'S THE BEST FIRST HOSE IN THE HOUSE SO SHE'LL MAKE HIM A DRINK." HAHAHHAHAHAHA, Ma'am, you CLEARLY did not listen to a THING this man SAID!
This girl is a PRODUCER PLANT… GO OVER THERE AND ASK THOSE GIRLS IF THEY'VE TALKED TO HIM… and then she's like GO TALK TO HIM RIGHT NOW and then she leaves lmaoooooooooooo
Victoria steals him TWICE, before a lot of girls have even gotten to talk to him once – CLASSIC NIGHT ONE DILEMMA. I can't believe this show has the same plot lines every season, yet I tune in like my life depends on it, none-the-less.
When Bri sits down with Matt, you already KNOW, this is gonna be good – She says it's important for her to see "diverse love stories" since it's not something she saw growing up. Her mom is "Persian" which is white-passing, and her dad is black. She has additional trauma of them being separated before she was born. A trauma card, right out of the gate. Great play, Bri! See her going far, likely top 6, although I'd love her to be the ring winner. 🙂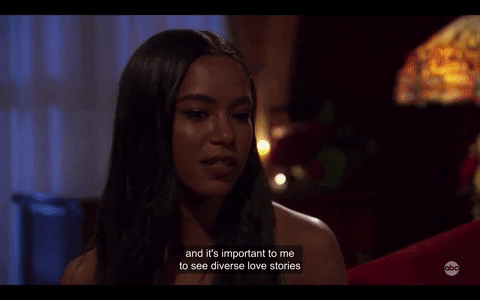 Next Matt sits down with Abigail and tells her he was "super impressed" with her just coming right out about being deaf, and she's, like, oh my gosh, you remember! And I'm like OMGGGGG, THAT IS GOOD SINCE MOTHER FUCKING PETER COULDN'T REMEMBER ANYONE LIKE THREE EPISODES IN.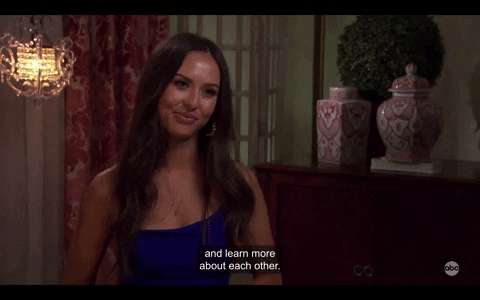 Abigail continues talking about her hearing impairment, telling him how her older sister is also deaf, so she kind of paved the way for Abigail. You can tell Matt is FEELING HER cuz then he GOES IN FOR THAT KISSSSS. FIRST KISS (minus weird Alana spaghetti which doesn't count) AND IT IS MAGICAL, NOW I REMEMBER WHY I WATCH THIS SHOW FOR THE FLEETING SMALL MOMENTS OF WHAT SEEMS LIKE GENIUNE LIKE/LOVE!
Cut to all the girls are sitting around on couches talking about the first impression rose, when of COURSE, Matt comes in sheepishly, like, Hiiiii. Byeeeeeeee gotta go, LMAO!
He walks back into the room and gives ABIGAIL THE FIRST IMPRESSION ROSE. She happily accepts, and they KISS AGAIN. I'm like dammmmmmmm! They are feeling each other for SURE!!!!! I'm like low-key already obsessed with them, lololol, oops! She just seems like the sweetest, most genuine, and real person!!! When she smiles with her dimples and it just radiates sheer JOY. Well SHIT, now I'm in love with Abigail, too!!!!!
Chris comes in to announce it's time for the first rose ceremony, and DAMMMMM, THIS IS A GRANDDDDD HALLLL.
Abigail already has a rose, so the order of roses received is as follows –
Rose Ceremony Rose Order
First impression rose – Abigail
Bri
Rachael
Chelsea
Sarah
MJ
Serena P.
Khaylah
Kristin
Kit
Magi
Pieper
Mari
Illeana
Jessenia
Kaili
Marylynn
Serena C.
Lauren
Sydney
Alana
Katie
Anna
Annnnnd in a dramatic turn of fate, VICTORIA, gets the last rose (the producers always have the last rose be between whoever the drama was in the episode)
23. Victoria
So who went home? Alicia, Amber, Carolyn, Cassandra, Corrine, Emani, Kimberly, and Saneh. It must suuuuuuck to go home first, I feel sad for these gals. 😦 Imagine that long process to get on the show + all the added COVID protocols on top of it, just to leave after the first night… UGH, makes me so sad. Good luck on your "journeys!"
Overall, I was pleasantly surprised how often they tied in diversity… instead of just casting a Black Bachelor and calling it a day…
During the pre-limo entrance sit down between Matt & Chris, Matt talks about his mom being white and his dad being black, and the pressure he is feeling as the first Black Bachelor. Although, Chris Harrison is… probably the least qualified person to have this conversation, LOL, it's still a conversation that was broadcast on national TV, especially to the Bachelor's base which is mostly white, conservative, and Christian… It's a win!
A few of the contestants discuss diversity as well – Pieper is in an ITM while all the girls are getting ready for the first night and says, "I feel like he's top tier: Matt James. (laughs) That diversity, seeing yourself represented on-screen, as any person of color, you don't always get that." We also have Kristin asking Matt how he feels about being the first Black Bachelor, and then Bri talking about how "it's important to see diverse love stories" to her during her one-on-one time with Matt James.
This is a STEP FOLKS, WE'LL TAKE IT! Diversity is GOOD.
With the information taken in from the first episode, I'm going to refine my top 10 picks based on only the promo….
TOP TEN SEASON 25 BACHELOR FINISHERS PREDICTIONS (1/10/21)
10. KATIE
Originally I had Serena C. in rounding out the top ten, but now I'm swapping in Katie for the extremely memorable limo entrance, and already her impressive/funny ITM's… I think she will narrate the show for as long as she's on, so I can see the producers trying to keep her around.
9.KHALYAH
Khaylah made a great impression with the pick-up truck, similar North Carolina roots as Matt, and the mini date in the back of the pick-up truck… Manifesting a good run for Khaylah because she seems cool and I wanna see more!!!
8. CHELSEA
Chelsea is remaining in 8th place because although she didn't have a huge presence in this episode, she was in the first group of limo exits (significant), and she got the third flower in the rose ceremony, also typically a good sign… Good work, Chelsea!
7. SERENA P.
Although Serena wasn't too stand-out in this episode (had a nice mini-date with the big chess, but not much else), I can't ignore the steamy make-outs in the promos!!! So Idkkkkkkkkk.
6. MARI
Originally I had Madison in 5th place, Matt's ex who is rumored to join the cast… But Mari certainly made an impression on the viewers, as well as Matt… I can see her going far…
5. SARAH
I think I put Sarah a little too low initially… especially because I initially had Serena P. in this spot… Although Serena's seen in the promos a lot, I kind of think she will be a more mid-level player… Sarah seems like she's going to be a very important character this season so I'm boosting her up.
4. ABIGAIL
I'M SO CONFUSED BECAUSE ABIGAIL IS IN LIKE NO PROMOS BUT MAYBE THEY'RE EXCLUDING HER ON PURPOSE TO THROW US OFF, BUT I'M JUST CONFUSED WHAT WILL HAPPEN. Either way, the first impression rose is no small feat, and has been significant in terms of a player's longevity in the game since its inception… And I just love her!! I wanna see her make it till the end!
3. RACHAEL
Rachael is chilling in her third-place spot… She made a GREAT impression, if not the most memorable of the episode behind Abigail… She's in the promos a TON. This girl is going far.
2. MICHELLE
Michelle is still rocking second place since she's such a big presence in the promo… Remember, Michelle is one of the girls rumored to be arriving in the coming episodes… We'll see if she gets down a few notches once she joins the show…
1 . BRI
Annnnnnd, I'm just going to continue on my Bri is ring winner train (because I want this to be true, lmao, first black couple to EVER COME OUT OF THE LEAD AND THE WINNER) until I get information that leads me to believe otherwise…
Thanks for reading!!! I was pumped up by this episode (it's certainly a lot better to look at than the Palm Springs, La Quinta Resort)… and Matt seems like he's going to be a good Bachelor… Malleable enough that the producers will likely spin him up in some web of drama, but he's a likable guy so I think the viewers and the contestants will like him… Or we can only hope after PP's season… (no offense, PP). Either way, can't wait for tomorrow's episode, I hope I see you again soon. 🙂
If you liked what you read here, please hit "Follow" at the bottom right-hand corner of the page to receive these blogs in your email inbox every time I post. You can also follow me on Twitter @literallyerin and Instagram @itsmeerinweber where I post every time a new blog comes out as well. THANK YOU SO MUCH FOR YOUR TIME AND ATTENTION, AND I HOPE YOU HAVE A GREAT WEEK. 🙂