IT'S THE MOST WONDERFUL TIIIIIIIIIME OF THE YEAR – NEW CHALLENGE SEASON IS OUT Y'AAAALLLLLLL. Please see below for a full The Challenge Season 37: Spies Lies, & Allies cast breakdown. 🙂
Vets
Tori Deal
Tori, Tori, Tori, in the HOUUUUUUUUSE! (IYKYK)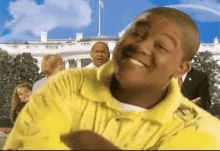 Tori is one of my fav ladies in the modern Challenge era. Originally from the fourth season of Are You The One?, Tori joins season 37 for her 6th Challenge, previously making the finals twice (Dirty Thirty (S30) & War of the Worlds II (S34)).
She started her Challenge career on Dirty Thirty as a rookie & immediately made her presence known. Tori came in the season dating another AYTO (S5) contestant, Derrick Henry, but Derrick left only a few episodes in, leaving Tori in the game where she took it all the way to the finals. In the finals, ~drama~ went down when Tori cheated on Derrick with notorious ego-maniac challenger (but I still love him? Cuz he's… actually good? Plus like… really hot), Jordan Wiseley.
The two went on to become one of the iconic Challenge couples in MY eyes (Leroy & Kam….? Jemmye & Knight are always my go-to, but of course respect where respect is due and that's to our beloved OG Challenge love, Diem & CT).
Jordan & Tori's story crossed the thresholds of Challenge immortality when Jordan proposed to Tori after winning an elimination (AGAINST JOSH, LMFAO) on War of the Worlds II (S34).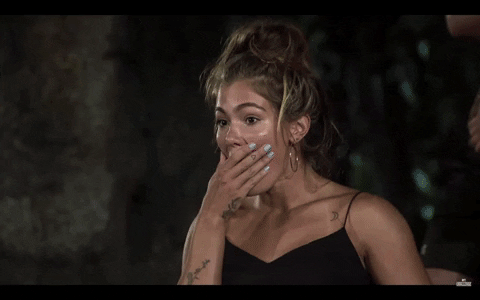 Tori was announced on the cast of Double Agents (S36) with no Jordan anywhere to be found. A few days later, she posted to Instagram the classic break-up post (black and white photo, one of their backs to the camera in the photo, faces mostly hidden, portraying a lost love), but let me tell you I was DEVASTATED. As an irrational & insane parasocial engager… This one cut DEEP.
Tori's a strong physical competitor, kinda trash at puzzles, but still an overall smart, strategic player. She's great socially, and rides the combination of those skills typically to the finals or close to them. She's just never secured the win… 37 is a charm?
Nany Gonzalez
NANY ❤ I am dramatic and think I love every person on this cast so please… you came here… YOU SIGNED UP FOR THIS. But yes, I love Nany. Originally from The Real World Las Vegas (S25), Nany returns for her 13th Challenge.
Nany is an absolute staple of modern Challenge at this point – She makes amazing, artful, never-before-seen reality TV. And for that, I am eternally grateful.
Nany's also amazing because she has provided us ENDLESS amounts of messy hookups, but the joke is that she's the "Kiss of Death" because any rookie that hooks up with her gets sent home soon after, LMAO. The trailer already HEAVILY teased us the shot of Kaycee & Nany kissing… And in the pre-season episode, they're both in interviews saying they like-like each other…. THIS IS. LITERALLY. THE STORYLINE. I HAVE BEEN WAITING FOR. THANK YOU, GOD.
She does probably keep getting the call back each season more so for the drama she provides, rather than her competition abilities… But at the same time, Nany is a scrappy one. I remember the truck wrestle last year Nany put up a surprising FIGHT.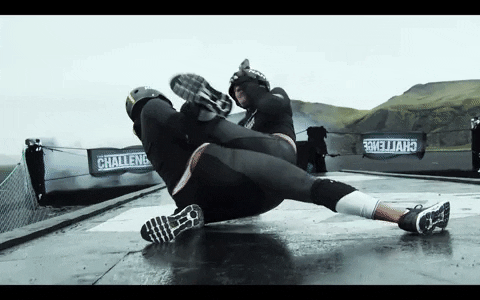 I would love to see Nany win a Challenge but I'll only believe it when I see it. Love you though, Nany!
Aneesa Ferreira
An oldie (as in veteran-ed, not like I'm calling her old, OKAY?) but a GOODIE. Aneesa originally was on season 6 of the Challenge and returns for her 15th season on Spies, Lies & Allies. She was originally on the eleventh season of The Real World: Chicago in TWO THOUSAND ONE. This woman has made an entire CAREER out of being on reality TV… You gotta put some respect on that check, baby, this is not typically long-term game!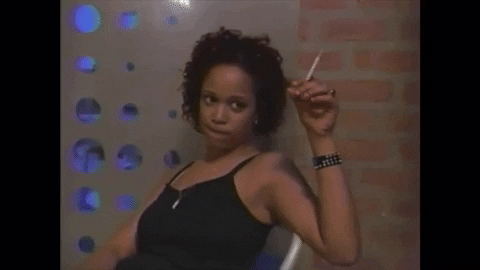 Although Aneesa has a vast breadth of Challenge experience, she's never won and only made it to two finals in 15 seasons (The Gauntlet II (S11), & The Duel II (S17)), soooooo she's not necessarily the biggest competitor in this game… HOWEVER, she is socially extremely connected & her sheer experience alone always propels her to a finish right before the finals, just short of making it on many separate occasions(a storyline for Aneesa on The Challenge: All-Stars, the franchise's first edition of the show with "all-star" players, more so just more original cast members)
Good luck, Aneesa, it's always nice to see a familiar face on the first day of school!!!
Ashley Mitchell
Millionaire Mithcelllllllll, otherwise known as SMASHLEY. I have an unabashed, inexplicable love for Ashley and that's probably because I have an unabashed inexplicable love for reality TV & Ashley is GOLD FOR THAT.
Ashley's originally from The Real World: Explosion (S29) alongside fellow Challenge castmate, Cory Wharton (Also originally from this RW season was another infamous challenger, Jenna Compono), and despite only being THREE EPISODES, this mofo was the star of the season. For the most comprehensive, insane look into Ashley's history in MTV reality TV, check out my blog on Miss Smashley on my page called, "Ashley "Get The F*ck Out My City" Mitchell" :).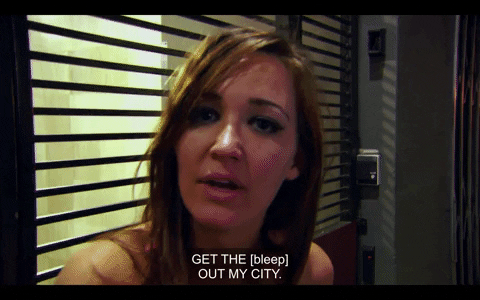 Not only does Ashley consistently provide us insane entertainment, but she's also an actual COMPETITOR, having previously won two seasons, and making it to the finals in an additional season. To me, she is the perfect Challenge player: messy as absolute HELL at night but a QUEEN in the arena when she NEEDS TO BE. Although not the most physically strong, Ashely's known to have an impeccable social & mental game.
She's one of THREE WINNERS LEFT ON THE SHOW, THREE. We only had four on Double Agents (Ashley, CT, Darrell, & Wes), and now we're down to THREE which, TBH, in my head is really TWO because I still cannot give Amber B. the credit she deserves. I'm so sorry Amber, it's really me, not you.
Kaycee Clark
My looooooooooove, probably just cuz I wanna kiss;.)
Kaycee returns to season 37 of The Challenge for her third season, after jumping over from her original show Big Brother (S20) which she WON. One of the 5 players on this Challenge season that won their original show (Kaycee – Big Brother (S20), Josh – Big Brother (S19), Michele – Survivor (S32), Tommy – Survivor (S39), and Tracy – Love Island Germany (S2)).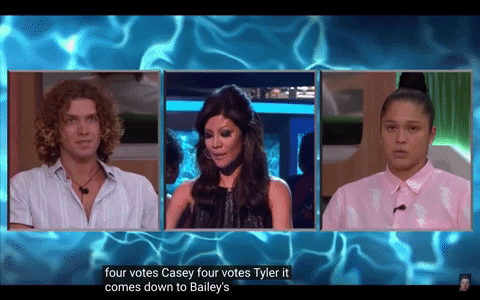 Although I love Kaycee… she gets absolutely no screen time… Leading me to believe… She's just a little too normal for TV. HOWEVER, she made it to the finals in both of her previous seasons (not an easy feat! Particularly not in the modern game), and is definitely considered a physical beast of a competitor. She's also pretty witty, social, & politically savvy (using the strong alliance strategy to advance her game in almost every season she's played)… So essentially she has all the great components of a great Challenge competitor except for the entertainment element. But THANKS TO NANY she will now be a HUGE LESBO STORYLINE THAT IS, REMINDER EVEN THOUGH YOU DIDN'T FORGET, GIVING ME LIIIIIIIIFE.
Lastly, she had a devastatingly early end to her finals attempt last season after she twisted her knee running down a gravel path on the mountain. Some schools of thought believe her partner, FESSY, was pushing her too hard, causing her to be less careful/move too quickly and get injured… Guilty until proven innocent.
I definitely see Kaycee finishing in the finals because whose gonna beat her in elimination??? Unless it's purely mind/puzzle… I don't see that happening. See you in the finals, Kaycee!
Amanda Garcia
Originally from Are You The One? (S3 – Alongside fellow season 37 castmates Devin Walker & Nelson Thomas), Amanda rejoins the cast after taking a 3 season break for her 6th Challenge.
Amanda is just… annoying? LOL. She causes a lot of… drama but it's always the fighting kind… not the hooking up kind. She's made a lot of enemies for herself, but that's probably because she isn't afraid to speak her mind. She conjures fierce emotions in most people – you either love her or hate her, but either way, you know shit's gonna go DOWN when Amanda's on the cast.
She's not the most physical competitor but considers herself one of the smarter ones. She doesn't cast a wide net in terms of her social game, but the connections she does have are loyal, namely her partner in crime, Smashley.
OMG, I would be remiss if I did not mention one of my all-time fav Challenge scenes which Amanda is a part of but she's not what MAKES the scene, LOL. In War of the Worlds (S33), Bananas wears Cara Maria's crop top, tie, tank t-shirt that says "Not Today, Satan" and makes a makeshift cross out of hangers & then pretends to exorcise Amanda and spray holy water on her, LMFAOOOOOOOOOOO.
Big T
Big T hails from a UK reality TV show called Shipwrecked where contestants compete in a Survivor-esque style game in two teams, competing against the other island to recruit more members as more contestants join the game… Kinda strange… Kinda interesting.
We first see Big T on War of the Worlds II (S34) where she makes little to no impact due to being the first girl eliminated in the second episode (Against Georgia Harrison). Then she had to leave Total Madness (S35) due to a foot injury. But third times a charm, baby, because when our queen T returned for her third season (Double Agents (36)) ? She was MAGIC. Pure reality TV MAGIC.
She and CT were partners for the majority of Double Agents & they made an unlikely, but iconic duo. They have a Rocky-training-esque scene where CT trains Big T in the wee hours of the morning, they give each other cute nicknames, they even have a fight midseason after CT's betrayal of Big T, but needless to say, Big T was the MAIN CHARACTER on Double Agents.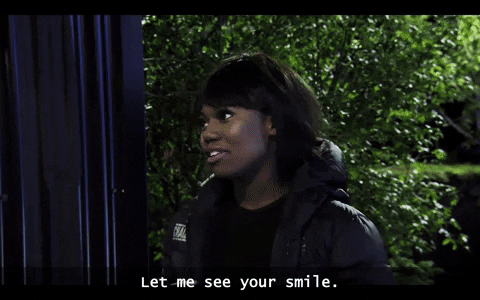 Not the most physical (her name "Big" is a ironic because she's physically small, but in many other ways she is quite BIG (in personality, in charm)), Big T was able to rely on her flawless social game in Double Agents, as well as a reliable partner, of course, to make it almost to the finals. She built a team of rookies around her and used them as shields until she was essentially the last of them standing (outside of our woman champion, Amber B.). I'm SO excited to see Big T return, and I juuuuuust have a feeling, we'll see her for many more seasons to come. ❤
Nelson Thomas
Double nelly Tttttttttt. As mentioned above, he's from the same Are You The One? season as Devin & Amanda, and returns to Spies, Lies, & Allies for his 7th Challenge.
I mother-fucking love Nelson, lmao. I just know some AYTO reality tv casting agent found this man in the great abyss of applicants & said now this man is the ONE. I don't see Nelly ever winning The Challenge (he's a little too dumb with all due respect, he would need a very capable mental partner, if it is a partners game after all), but I love having him in the show.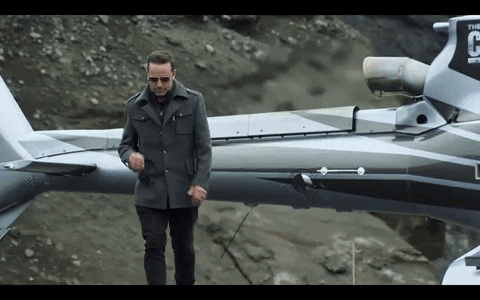 I love watching Nelson & Cory's bromance, special shout-out to when Nelly sacrificed himself to go into an elimination for Cory in Total Madness. As of last season, him & Fessy have a feud that looks like it'll spill over into this season. More on this betrayal in Fessy's section below. I'm excited to see Nelly T's moves.
Cory Wharton
Cory, Cory, Cory (reprise my original joke & use it for the actual name), the DARLING of The Challenge. This man is the closest thing to being a reality TV actor… Like, this is this man's PROFESSION. He's starred on every Challenge season since Rivals III (S28) minus seasons 33 & 34, so he's one of the most veteraned players on the cast. He's originally from The Real World: Ex-plosion (S29), and is also frequently seen on another MTV show, Teen Mom OG, where his baby mama, Cheyenne Floyd, & him star.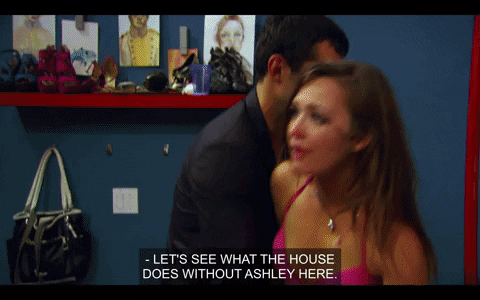 Cory's another person who tends to make it quite far in the season but always falters before the win. This will be his 9th Challenge, finishing 4 of those seasons in the finals. He's physically fit…not all that smart…but socially very well connected in the game. I don't see Cory ever winning but I HOPE it could happen for him. He's done his time, he deserves it.
Josh Martinez
Mother-fucking Josh Martinez… Originally hailing from season 19 of Big Brother which he won, Josh returns to season 37 for his 5th Challenge (Is Josh becoming… a legitimate… vet???)
I feel like I've been around the world & back on many a journey regarding my feelings about Josh… Even now I'm not quite sure how to exactly articulate them….
There's this one quote I ALWAYS think of from this book called "Ender's Game" and literally the plot does not matter but someone says,
"In the moment when I truly understand my enemy, understand him well enough to defeat him, then in that very moment I also love him. I think it's impossible to really understand somebody, what they want, what they believe, and not love them the way they love themselves. And then, in that very moment when I love them… I destroy them."
That's me and Josh. I hated him SO MUCH. SOOOOOO MUCH. See literally any prior Challenge blog I've written I'm positive I shit on Josh.
But now… I've done my research & I've processed these conflicting feelings and I hate to say it…It physically PAINS ME to say it….but… I hate-love this man? He gives us so much. SO MUCH. When he's screaming at Devin with the backtrack of "So Emotional" by Whitney Houston… my heart soars every TIMEEEEE. IT'S GENIUS. I love it TOO MUCH.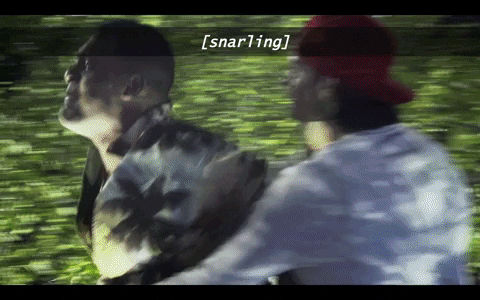 Josh is so DUMBBBBB and BADDDDD at The Challenge, but NOW instead of hating him for that … I've come to… kinda love him for being the big bumbling fool he is.
Kyle Christie
I expect to see Kyle return for every season of The Challenge at this point, coming back for his 7th season. He's an elite-level interviewer, decent physical competitor, and tosses the occasional fight & hook-up in here & there, most notably in his early days with his multiple-season-long debacle after hooking up with Challenge legend, Cara Maria (2 wins, 7 finals, 14 seasons) all season long on Vendettas (S31), then having a mostly fabricated two-season-long feud with Cara's new boyfriend, Paulie Calafiore. By the end of season 33, they're like JK, we love each other and we make up … And I'm like… I smell PRODUCERS.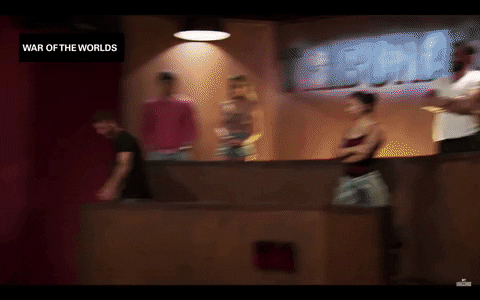 Kyle makes it decently far or to the finals in these games despite coming off as a bit of a jerk-off (meaning just that he comes off light-hearted, like, he's not serious about the game). And that could also be due to his superb social game (people have said multiple times on various podcasts that Kyle has one of the best social games in the house of anyone) & acting like he can't really perform in challenges/he's too stupid… But this man is smart (smart enough), definitely strong enough, and has played this game enough times to really know how to play it well.
Fessy Shafaat
Fessy is now my most hated person on this cast since things have changed between me & Josh and Lil weasel Wes is nowhere to be found…
Fessy thinks he is god's gift to earth, which is probably the most infuriating quality in a person to me, especially if that person's a mediocre MAN.
Originally from season 20 of Big Brother, alongside Challenge 37 castmate Kaycee Clark, this will be Fessy's third season in the game. He's made a name for himself in the past two seasons, despite being the most boring person on earth. He finished in the finals on both of his prior seasons & he is one of the LAST people on this cast who hook up (In Double Agents, he & Gabby had ONE MEASLY, STUPID kissing scene that was irrelevant to the total plot, and then in the reunion, it's revealed that Fessy also kissed MILLIONAIRE MITCHELL under his jacket so the cameras couldn't see?????? Some wack ass shit, but you know I live for it. )
He also notoriously betrayed Nelson last season… Stay with me, now, as I explain how this shit went down…
Okay, so last season the twist was the house secretly votes in one pairing to go into elimination, and then at the elimination, the "Double Agents" (winners of that week's daily challenge) choose a pair to be their opponents.
To get to the finals the challengers had to get a "gold skull", meaning they'd won an elimination in that season. There was a plan amongst the seemingly "strong alliance" of Cory, Fessy, & Nelson for Nelson to go into elimination via the house vote & get his gold skull.
At the very last minute as the challengers were walking into the elimination arena, Fessy whispered to his at-the-time rumored girl, Tori, (who was a double agent that week) to put him in the elimination because he sees it's clearly a Hall Brawl – The notorious Challenge elimination where the two competitors run at each other in a narrow hallway until they collide, and the first to ring the bell on the opposite side wins, usually played in best of 3 rounds.
Nelson is obviously PISSED because he, Fessy, & Cory were supposed to be a tight 3, and Fessy just sacrificed Nelson for himself just to get a sure-fire, no-risk gold skull. And to ADD to that… Fessy had just come off of being the double agent for TWO WEEKS in a row & passed up TWO PHYSICAL ELIMINATIONS (because the double agents could also put themselves in to get their gold skull if they so choose). Sooooo … Moral of the story… It was shallow and shitty, and Nelson is not a forgetting man!
We shall see how the effects of scuffle play out… Hate that I spent so much time on Fessy, but it is true that both love & hate are strong emotions.
CT Tamburello
Daddi CTTTTTTTTTTTT. One of two OG OG players left on the show (him & Aneesa), CT is the godfather of The Challenge. Now Mark Long THINKS he's the godfather of The Challenge (Re: The Challenge: All-Stars on Paramount+, a MUST watch), but really it's CT.
This man has been through SO MUCH on this show. He used to get in SERIOUS fights (like the one episode in Duel II (S15) where he punches Adam is just … not available & I think it's because it's too graphic. Same with the episode in The Ruins (S18) where Brad & Darrell get in a fight… THEY'RE REALLY BAD), he had one of the most notorious romances this show has ever seen with the late great Diem Brown (rest in peace, beautiful angel!) on The Duel (S13), and overall… he's just been around for EVERYTHING.
Originally on season 13 of The Real World: Paris (2003) & making his Challenge debut on season 8, The Inferno, CT returns for his 18th Challenge with 4 season wins (Tied for second most winning guy challenger tied with Darrell Taylor, both behind Johnny Bananas with 7 season wins) & he's finished in the finals in 5 additional seasons.
The conversation about the greatest player to ever play will always be between CT & Bananas, but it's so HARD TO SAY because they play different roles (it's like when I used to make people choose between Rihanna & Beyonce… that's RACIST and they're SO DIFFERENT) in the franchise… Bananas is entertaining as hell, but when you see CT, you know you're watching The Challenge.
Devin Walker
Another one of my previous ex-hates… I still mostly hate Devin… well, I guess I should say dislike. He is annoying, but once again, I see the power of his TV ability. I respect everyone in our game who produces the great art of reality TV, which I believe The Challenge still gives to us in the most exciting, entertaining, "real" (as real as reality TV can be 😉 ) form.
He's originally from Are You The One? (S3) alongside Nelson & Amanda, returning to season 37 for his 6th season of The Challenge, finishing only once in the finals (Rivals III (S28)). It's very weird to think of him as being originally cast as a "hottie" on an MTV dating show… and it's also weird because he acts uncannily reserved on the show… probably because he's just coming out of his shell & waiting for them to call him back before he goes full BALLS TO THE WALLS OBNOXIOUS.
Devin's strength is his mental game, excelling in puzzles & political strategy, but he's not typically strong in physical competitions. But in Double Agents, he seemed to be in the best physical shape we've seen him in, even beating Wes in an elimination (do I really think that is THAT hard? NO, but I'm trying to give the man some credit). He could be a contender this season, but I never see him winning.
Nam Vo
Poor, poor Nam Vo. He practically went through hazing his first season (Double Agents) having the high-maintenance Olympian, Lolo Jones, as his partner. She was constantly berating him, telling him he wasn't communicating well, or trying hard enough, or IDEFK what the issue was, that woman was just always mad!!
He ended up leaving Double Agents about halfway through the season due to a back injury. Everyone on the internet was like… wtf is a BACK injury??? Lolo stressed this man out soooooo much his body physically shut down, LMFAO. He's a huge physical competitor and from a Netflix reality competition show (Similar to like… American Ninja Warrior? This is an absolute guess) Ultimate Beastmaster. Better luck this time Nam!
Amber Borzotra
Lastlyyyyy, our most recent woman Challenge champion, "Amber B." Amber, originally from Big Brother (S16) (The season Derrick wins with his sidekick, Cody Califiore (who goes on to win season 22, All-Stars – brother of aforementioned PAULIE CALIFIORE)) returns for her second season, after winning her rookie season (a rare feat! It used to be more common in older seasons, some seasons even necessitating a rookie win based on the format ie. Fresh Meat where the vet cast members were paired with a rookie. The most recent competitors to do something even CLOSE were Rogan & Dee both in their second seasons winning War of the Worlds II (S34), and Jenny West winning her second season, Total Madness (S35).
I will try not to repeat verbatim what I said in my Double Agents cast breakdown but hear me when I say… this woman was the most IRRELEVANT, RANDOM casting I had ever mf SEEN. She was literally NOT a character on Big Brother, she didn't even make the JURRRRYYYYYYY (only 5 of 14 didn't????) and she had 0.01 screen time. IT MADE NO SENSE. THEN SHE NOT ONLY DOES SHE GET CAST ON A SEASON OF THE CHALLENGE BUT THEN???? SHE WINSSSSSSS? My brain. Still. Refuses to process this information.
ANYWAY, she won Double Agents (S36) with her partner CT, but she didn't just win because of CT. She was running like a mofo (the finals often include a long-distance endurance element, usually running) in the finals, CT struggling at times to keep up with her. It's gonna be hard to outdo your first season, Amber, good luck!
Rookies:
Michaela Bradshaw (Survivor)
Okay, so apparently she was originally allied with former Challenge cast member Jay Starret (WHERE IS JAY ON THIS SEASON? EXCUSE ME) in her Survivor season (33) until her behavior caused them to flip & blindside her since she knew about Jay's hidden immunity idol.
Casting producers… WYA????? HUGEEEEEE missed opportunity??? They probably still have beef??? Michaela would probably confront Jay about it??? WHERE IS THAT CONTENT, HUH? God damn, I should apply for that damn job.
She also played on another season of Survivor, season 34 "Game Changers" where they brought back all returning players for another chance at the TREASURE. She was allied with the ICONIC, Cirie Fields (originally from season 12 Survivor: Panama, & kicked ass on season 16, Micronesia), until she got blindsided & voted out in the top 7 by Sarah Lacina, another Survivor icon & the winner of Game Changers.
I can see Michaela being a good Challenge competitor. She was known to be blunt on her Survivor seasons, but she also came across as very honest & trustworthy. She seems like a great hang, so if she can build enough connections in this house (and will there be a Survivor alliance???? Similar to the Big Brother alliance last season that brought Kaycee & Fessy to the finals & Josh SHOCKINGLY about mid-way through the season AND through his first elimination win??? (WTFFFFFFF) ONLY. TIME. WILL. TELL.)
Michele Fitzgerald (Survivor)
I loooooooooooove Michele. I've only seen her in the winners' Survivor season (SPOILERRRRRR – where she placed legit third???), but I am OBSESSED. She relied on her social game and laying-under-the-radar strategy to wiggle her way into that top 3 in a season of 20 previous Survivor winners. Not too shabby, eh?
I can see Michele potentially being bombbbb at The Challenge. She's not necessarily super physical (hopefully she trained… like enough?), but she's super smart & socially equipped. I pray for a long run for our girl, Michele!
Tacha Akide (Big Brother Nigeria)
She literally made it to almost being a finalist (top 5?) on Big Brother Nigeria (S4), but then got in a fight with the eventual winner that resulted in her expulsion from the house. But the WINNER IS THE ONE WHO PICKED UP AN IRON LIKE SHE WAS GONNA PRESS HER??? WTFFFFF. I obvi can't find the video ANYWHERE, but holy HELLLLLL I DID FIND THIS PIC.
SOOOO we know no matter WHAT, Tacha has some fire to her?? AND she's a good social/political player if she made it to the almost the finals in Big Brother??? I'm STOOOOOKED for Miss Tacha, let's see what you can DO!
Emy Alupei (Survivor: Romania)
Emy's from the first-ever season of Survivor Romania (aired in 2020) where she placed in the top 6 alongside fellow season 37 competitor, Emmanuel.
On a typical American Survivor season, they bring in a family member of one of the castaways around the top 6-8? They don't fly in the families in the Romanian version (cuz COVID?), but they all one by one get to call a family member with everyone around watching them including us, the audience! … Classic exploitative reality TV.
But this woman… She gives an IMPECCABLE performance. She is SOBBING.
Also, she's giving me Blue is the Warmest Color vibes… I can't tell if I'm absolutely terrified of her or if I will do literally anything she tells me to….
…. Ok so yeah I wanna kiss, LOL, but I ALSO WANT HER HAIR. Classic bi dilemma ://.
Any player coming in from a Survivor or Big Brother season I'm not underestimating. Those two shows really give you some of the best prep (Survivor, more physical but still with the heavy social element, Big Brother even more social & political) for The Challenge.
Berna Canbeldek (Survivor: Turkey)
Berna joins The Challenge after previously competing on 3 seasons of Survivor: Turkey (seasons 8,9, & 12 which was a returning player season). And I have to take a quick pause because my research is telling me these seasons take place over ONE HUNDRED AND FORTY DAYS EXCUSE ME. EXCUSE MEEEEEE. HOW IS THAT POSSIBLE???
Remember anyone else on The Challenge from Survivor: Turkey in recent years, hmmmmm???? How about a little season 33 champion named TURBOOOOOOOOO. Turbo & Berna played a season of Survivor Turkey together!!! We love the connections!!! Hopefully, they're tight because Turbo obviously knew how to play the game (Turbo previously had won two Survivor Turkey seasons, and then went on to win his rookie season of The Challenge. GEESH!)
Priscilla Anyabu (Love Island U.S.)
One of my fatal flaws as an avid reality TV lover is that I still just… can't get into Love Island… People, I have tried MULTIPLE different seasons, MULTIPLE episodes, MULTIPLE DIFFERENT VERSIONS (US & UK)… CAN'T GET HOOKED.
So I accept this flaw, and I admit this is where my coverage will be lacking. Now hiring a volunteer position for someone to feed me Love Island storylines & important moments. Inquires in the comments please! 😉
What I CAN tell you about Priscilla is on her season of Love Island UK (S6) she made it to the final two couples, ultimately losing the vote to another pair. This tells me she DOES know how to play some form of a reality TV game – ie. GAIN FAVOR AMONG YOUR CASTMATES OR US, THE AUDIENCE. Good luck, Priscilla!
Tracy Candela (Love Island Germany)
Another islander… I'm really sorry, Tracy, it's not you… it's me. But listen!!! Tracy hails from Love Island Germany (S2) and this mofo WON. IDK what that really means or entailed or if this will have any transferable skills to our game, but if past Love Island challengers give us any indication (Georgia Harrison, Gabby Allen), she could surprise us! Good luckkkkkkkkkkkkkk, Tracy!
Bettina Buchanan (Paradise Hotel Sweden)
Bettina comes to The Challenge from a show called Paradise Hotel where she competed on four separate seasons (the 8th & 11th seasons of the Swedish version, & the 11th & 13th seasons of the Norway version). According to IMBD, Paradise Hotel is a reality tv show that "follows a group of single people, living in a luxurious hotel resort, competing to see who can stay in the hotel the longest." So…. Big Brother but stop making it for 5-year-olds?
She also starred on Celebrity Ex on The Beach Sweden, & Ex on the Beach Norway: Afterski… This tells us… This woman MUST make amazing TV or producers would not keep asking her back.
And I do stand corrected… In my trailer breakdown, I predicted Bettina would be the one who kisses Fessy, but I have now received MORE information that leads me to believe… It will be AMANDA.
However, what we did learn from Bettina on the bonus episode is that her laugh… is truly insane. A kind of rhythmic, wheezing is how I would describe it.
Esther Agunbiade (Big Brother Nigeria 4)
Esther's from Big Brother Nigeria (S4), alongside castmate, Tacha, so again we see the casting producers brought in characters with pre-existing relationships, so they are more likely to stir up some more DRAMA. EGGCELLENT, you love to see it.
Again, I will preemptively expect good things from Esther coming from a Big Brother show, although she placed somewhere middle of the road in her season. She's shown in a lot of interviews during the pre-season episode, and I also think she was shown in a decent amount of random clips in the initial trailer… Dare I say, Esther will be one of the top rookies?
Lauren Coogan (Love Island U.S.)
Once again… Apologies to the reader, I have no Love Island insights but just remember a jack of all trades, is a master of none. (I am striving for mastery level knowledge of The Challenge, okay?)
What I CAN tell you though is another JUICY reality-TV-interconnected-web-tidbit… This woman was on the new reality TV dating show, F-BOY ISLAND, and NOT as a contestant, but as an EX. Essentially one of the main girls dating the guys on the show was like… I don't trust this girl (Lauren) isn't your girlfriend anymore, let's call her. So then they do and its HERRRRRR, AND WHEN I WAS WATCHING I WAS, LIKE, WTFFFFFFFFF. But she's actually very amicable, doesn't try to blow him up or anything… Not the drama you were looking for, huh producers??
Corey Lay (12 Dates of Christmas)
When I first saw Corey was from "12 Dates of Christmas" I was like… is that a LEGIT scripted TV SHOW OR LIKE HALLMARK MOVIE??????? But then I looked it up and it's a CHRISTMAS SPECIFIC REALITY DATING SHOW. OMG I AM OBSESSEDDDDDDD.
It's like a Christmas version of The Bachelor but there are three main people – a straight white dude, a straight white chick, and a gay white dude which is… WOW SO DIVERSE, WE HAVE ONE GAY! But jk, because the rest of the cast looks more racially diverse. STILL.
Corey is seen crying in the trailer, yelling at the guy he presumably dates, and like a few of these rookies… I see reality TV greatness in this one.
Jeremiah White (Love Island U.S.)
Tsk, tsk, tsk… MORE LOVE ISLAND. This season will be known as the international Big Brother, Survivor, and Love Island take-over… Apparently, he came in on day one and left day 9 which… means he didn't make it very far, LOL. That also means despite probably having minimal air time, the casting producers still see something in him that could result in explosive TV… I'm here for it, and I will TRUST the PROCESS.
Tommy Sheenan (Survivor)
While I have seen many a season of Survivor, I have not seen season 39, Island of the Idols, in which Tommy comes out as the winner. HOWEVER, my best friend has seen every last drop of this show (from season 1-40), so she graciously provided me his Survivor storyline.
There's a term called "sheep" in Survivor which means a player who has made it farther than their playing abilities should have taken them, and so the remaining players want to keep them around simply because they think they can beat them in the jury vote at the end.
In Survivor, there's usually some pride in playing the game – You want to show you made moves, designed plans, found idols, did ANYTHING to impact the game, to outwit, outlast, & outplay your competitors to garner votes from the jury… But Tommy was a SHEEP meaning he did NOTHING IN THE GAME. The guy he was going against in the final was an asshole, so he won by essentially default.
Now, I also have this thing where I defend any person who has won a reality TV show because no matter HOW they did it, they DID it, which says something (similar to Amber B's Challenge win). Nonetheless… my friend's prediction is that he won't be able to keep up with the challenges (physically) but if he can make enough social connections with the right people and have them do his bidding for him… He could sheep his way through the game. The elimination element of The Challenge makes it so that you have more control of your own fate (for better or for worse) so Tommy will potentially have to prove himself in an elimination, no skating by.
Gabo Szabo (Warsaw Shore, Celeb Get Me Out of Here Hungary)
This man seems like another professional reality TV star. They credit him as being from Warsaw Shore (the Hungarian version of Jersey Shore), but apparently, he was already a celebrity before he went on? From what I can tell from poorly translated Hungarian to English via Google translate, he gained fame from winning bodybuilding competitions? And then went on to compete on another Hungarian celebrity reality game show before going on Warsaw Shore.
He looks HUGE and based on being from Warsaw Shore, I feel like he may give off Kyle vibes? A bit of a douche, kinda prankster, but a physical specimen when it comes to competition.
Hughie Maughan (Big Brother U.K., Dancing With the Stars U.K.)
Hughie enters The Challenge as the runner-up of Big Brother UK (S17). Now, THIS is a man with some RICH reality TV history. I try googling everyone's names, putting them on YouTube to see if any clips come up, and for the most part with these rookies… I've been unsuccessful. But with this man??? NOOOOOO. THERE IS A FLOOOOOD OF ICONIC CONTENT.
Not only did Hughie do well in terms of the game, but he also had a notorious relationship with his fellow Big Brother houseguest, Ryan Ruckledge, during their time in the house. The pair announced their engagement shortly after the season, but broke it off less than a year later. HOWEVER, their relationship remains immortal in the realms of the INTERNET. I've pulled two examples samples for your viewing pleasure:
And if you refuse to, you can enjoy this gif that made me LOL in the vid the first time watching it-
OMG, MY FKN HEART. LET ME REMIND YOU BIG BROTHER HAS CAMERAS EVERYWHERE IN THE HOUSE ON 24/7 SO THIS IS THEM JUST LEGIT HANGING OUT AND BEING LITERALLY THE CUTEST EVER, WTFFFFFFFFF.
Once again, I am a woman of the people and pulled out the cutest part below-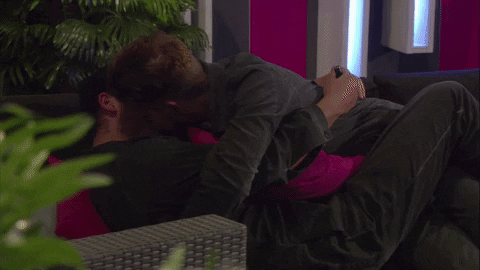 Emmanuel Neagu (Survivor: Romania)
Emmanuel was the runner-up on the first-ever season of Survivor Romania (same season as fellow rookie, Emy). In the pre-season episode, Emy tells Priscillia (one of our Love Island-ers) that Emmanuel is really smart strategically, making it further than her in Survivor.
Again… I see this man as a competitor, and IDK if it's a Romanian thing… but both Emy & Emmanuel look FIERCE.
Logan Sampedro (Survivor: Spain)
Logan is another Survivor runner-up finisher, competing on the 13th season of Survivor Spain. Another impressive finish!
He got into a drone accident in his adulthood that caused one of his eyes to turn a much darker color. Sorry bout your luck, that must of hurt like a bitch, but like, it does… look cool???
Not much else to say about you Logan, lmao, GOOD LUCK!
Kelz Dyke (Too Hot to Handle U.K.)
Kelz, lmaoooooooo, I love this man's he was on the first season of Too Hot to Handle, Netflix's reality TV dating show with the premise of all the contestants not being allowed to touch each other "sexually" or else they lose money. Our good man Kelz here was known as the "accountant" of the group because he's like NO ONE BETTER BE LOSING ME MONEY. Please see the gif below for a compilation of his reactions every time someone hooked up and lost them money, lmfaoooooooo.
Kelz comes off as a good guy on the season but he kinda got fucked over by the #1 ~hot~ girl (who is also bi, so what am I gonna do? NOT stan????????? NO.) because she's originally hooking up with this guy Harry but gets mad at him when he blames her for losing them money when they hooked up, lmfaoooooooooo.
And then Francesca & Kelz become a thing, and Francesca breaks the rules like 10 times during the season and she tries to get Kelz to kiss her in the hot tub too which Kelz is like lady, NO, I am the ACCOUNTANT, I ain't losing us no money!!!!! Then they take a shower in which they still don't touch…
So the next day Francesca's, like, okay, he must like not like me, back to Harry I go! And it's like… FRANCESCA…. SORRY, THIS MAN IS LITERALLY FOLLOWING THE ENTIRE PREMISE OF THIS SHOW. Obviously, she made for amazing TV though. Kelz, you're too goody-goody! JK, you are probably just a nice and actually very good person ie. why you were bland on reality TV.
Let's hope Kelz can have better luck at The Challenge than he did in a dating show where everyone else lost him money for kissing and fucking except himself, LMFAO. HE LITERALLY DID NOT BREAK THE WHOLE TIME. This man is astounding. Good luck, Kelz!
Renan Hellemans (Ex on the Beach Double Dutch Belgium)
Tells us in the first episode he used to play professional basketball from when he was 16-19 but now he spends his time working as a SEX COUNSELOR which he thinks will help him in this game because it will make him a good listener…. WOW, SIR, WOW.
The movies tell you that all sex counselors are eccentric mothers to the adult child who plays the nerdy guy love interest in a rom-com…. But sex counselors can be actually very hot guys with panty-dropping eyebrows, in fact! This is the diversity we NEED.
Thanks for reading!!!! Catch you next time for the recap of episode 1! 🙂