The Unexpected Best & Worst of The Challenge: Double Agents
Four months since our premiere & we finally arrive at the cusp of TJ's finals for The Challenge's 36th season, Double Agents. Although The Challenge brought in a lot of big bets with their rookies this season, it was the veterans who majority pulled through and secured their places in the final.
I was excited for a lot of the rookies this season and thought there could be some new stand-out players in the game, especially considering the notable absence of Johnny Bananas who was one of their most beloved cast members for over 20 seasons. As the season progressed, this proved mostly untrue. It was the veteran players who dominated the game, the ones who are standing in the end. So I began to wonder… How do a player's past performances affect their ability to play a future Challenge season? What can we learn or predict will happen based on what's happened in seasons past?
The "GOAT" (Greatest Of All Time) Score is a metric I've created in efforts to capture a Challenge player's past record, incorporating seasons won, finals competed in, eliminations won, & how far, on average, a challenger makes it through the season (x% of the way through). To put it more explicitly, the following 4 metrics are used to calculate a player's GOAT score:
"GOAT" (Greatest Of All Time) Score Calculation
Challenges Placed 1st (Won)/Challenges Played +
Finals In (Competed in)/Challenges Played +
Eliminations Won/Eliminations In
Placement Score (Averaged Across Seasons – Place/Total Contestants)
(1+2+3+4)/4 *100 = GOAT Score
I used the GOAT scores to rank challengers on All-Stars to see if their past Challenge record (some haven't played for 15-20 years) will predict how they will place in this modern season. In the same way, I wanted to know what placements the GOAT score rankings would have predicted for returning Double Agents challengers (rookies don't have a score since they don't have any stats) vs. how they actually placed in season 36 (the season starting with 30 players, having only 8 finalists remaining).
Now, when I created this "GOAT" score metric, it was a bit "arbitrary" as I wasn't sure how well it would predict a player's performance in future seasons. There are a multitude of variables at play in any Challenge season – the daily challenges, the types of eliminations you get thrown in (ie. whether they cater to your strengths – Fessy & a Hall Brawl, or to your weaknesses – Cory & a puzzle), your partner, the other competitors on the season, injuries, & more. A lot can affect the course of the game. Overall, though, these 4 things are closely tied to how well a player will perform on a Challenge season. Because, as we all know, history often repeats itself.
With all this being said, here is the Double Agents preseason ranking by GOAT scores, ie. the 20 returning players, ranked from 1 to 20 based on how their past performances predict their future season placement –
The Challenge: Double Agents Season 36 GOAT Scores Ranking
Top 10 Double Agents Players
Top 10 GOAT Scorers on Double Agents (from left (1st) to right (10th)) – Kaycee Clark (1), Nicole Zannatta (2), Fessy Shafaat (3), Darrell Taylor (4), Kam Williams (5), Cory Wharton (6), CT (7), Ashley Mitchell (8), Tori Deal (9), & Wes Bergmann (10)
Bottom 10 Double Agents Players
Bottom 10 GOAT Scores on Double Agents (from left (11th) to right (20th)) – Nelson Thomas (11), Leroy Garret (12), Kyle Christie (13), Aneesa Ferrerria (14), Devin Walker-Molaghan (15), Theresa Jones (16), Nany Gonzalez (17), Jay Starrett (18), Josh Martinez (19), & Big T (20)
Top 8 Finalists vs. Pre-Season Predictions
Of the 8 top GOAT scorers predicted for Double Agents, 5 of them are in the finals (top 8 finishers) – Kaycee, Fessy, Kam, Cory, & CT.
Season 36 Upsets
The original other 3 players predicted to be in the top 8 based on GOAT scores were Nicole (2nd place pre-season prediction, placed 29th), Ashley (8th place preseason prediction, placed 22nd), & Darrell (4th place preseason prediction, placed 12th), who all respectively performed much worse than their scores indicated they would – Nicole faltering the most relative to her past performances (the purple bars indicate the "difference" between the original prediction and actual placement – ie. Nicole was predicted at 2nd, and got 29th 2 – 29 = -27), then Ashley (-14 placement vs. pre-season rank), lastly by Darrell (-8 placement vs. pre-season rank). 
The Ones That Got Away…
In the graph below, the pink bars indicate when a challenger placed below (worse) than their score predicted, & the green bars show where challengers placed higher (better) than their pre-season rank prediction (or will finish, in the case of Leroy & Nany, who I wanted to give some credit to for being in the finals. Since there are four partner teams left, I'm assuming the finishes will be 1st-4th place, so I gave everyone in the finals "4", as that's the lowest their season progression score would end up).
Nicole, Wes, Tori, Nelson, & Ashley all underperformed based on their pre-season rank by 8 placements or more, meaning, based on what they've previously been able to accomplish in this game, they should have made it farther.
Nicole
Nicole, the only one among the 5 to leave "unrightfully", ie. not in elimination, but rather due to an injury caused by one of the daily challenges (where she and Kam were wrestling on top of a moving truck). She posted something sentimental on Insta saying how although she left early, she got to partake in a lot of family events she would have missed. Silver linings, people!!
Wes
Wes… bLAH. Everything he does is drenched in ego. He says in his Insta-goodbye-from-The Challenge-Double-Agents post that he is so proud of the "honor you've (MTV) bestowed to me to help you build it (the show)"… I mean… he's not wrong… But I just interpret every word from his mouth as ARROGANCE.
Tori
No post for Tori's Challenge Double Agents exit??? She seems to be doing a lot of other non-Challenge related things – she has a "Mindful Monday's" class with her friend where it's kinda a meditation/mindfulness/life coach type class. I did it once it was pretty cool actually. She also just wrote a children's book with the same girl??? And then fact that I can't find a lick of Challenge content anywhere on her Insta page for the last 3 months (except a quick S/O in her bio)… Was this our last season for Tori Deal??? I feel like we're about to lose so many people to just, like… adulthood!! Cuz say what you will about Are You The One? (Tori's original show)… but they funneled the best cast members into The Challenge after the end of The Real World (The original show used to funnel young & dumb (I mean that with the utmost love & respect) reality TV stars into The Challenge)… The moral of the story is… bring back Are You The One? and make it GAY!
Nelson
Nelson isn't always taken seriously in the game by other competitors, but he has one of the best elimination records of anyone to date – second highest elimination winning % behind Kam (80% – 8 wins/10), Nelson's elimination record is 71% winning (10 wins/14). (There were 3 players on this season with 100% elimination record – Fessy, Kaycee, & Nicole – who've all been in one and won one elimination so they're excluded).
We should be calling him Killa Nelly T!!! And that Hall Brawl against Fessy… that was BRUTAL. Nelson is a really physically capable man… had it been any other elimination than just direct physical combat, I think Nelly T could have had the edge. I hope we see the return of Nelly to The Challenge soon, as he feels like an essential part of the cast more & more each season.
Ashley
Ashley "Millionaire" "Get-The-F*ck-Out-My-City" Mitchell posted something party-esque displaying her sex appeal after her Double Agents departure & I don't know why I expected anything less. This is Ashley's whole MO, though – do really poorly one season (leave within the first 5 people), only to return and win the next… maybe season 37's a charm, Ashley?
Darrell
Lastly, Darrell was the final challenger who underperformed based on his GOAT score – This was Darrell's first game back in 5 seasons & it was a big deal to have both himself & Theresa Jones back in the cast as "OG's" (originals). However, his slightly early exit (still placing 12th out of 30! It's just that his pre-season rank put him at 4th place) was a bit overshadowed by him jumping straight over to the All-Stars season airing on Paramount+. This probably felt pretty cool to Aneesa & Darrell, like, yeah, we got eliminated from Double Agents… but SURPRISE, HOES! We're still on TV. 🙂
Everybody Loves an Underdog
In the same way challengers underperformed based on their GOAT scores, some challengers exceeded their GOAT expectations.
The following people outperformed their GOAT score ranking prediction, making it further in than season than their past abilities averaged would indicate – those people are Leroy (+8 places higher than preseason rank), Gabby (+8 places), Big T (+10 places), Nany (+13 places), & Amber (+17 places higher than preseason rank)
Rookies of the Year
Total Madness, season 35, brought some big-d*ck-energy rookies, pardon my Frénch, ending with 3 rookies making the final – Kaycee, Fessy, & Bayleigh Dayton (all three were previously on Big Brother Season 20). The three all had dominating qualities, whether it be in their personalities & ability to politic (Bayleigh), their athletic abilities (Kaycee), or their sheer size (Fessy), they were all exceedingly exceptional rookies.
Season 36 Rookies of the Year
Gabby
Based on her physical appearances & the show she hails from (Love Island), I presumed Gabby would not fare far or well in this game…but I was happily mistaken!
Gabby's not just a pretty face (although… she DEFINITELY has that department DOWN)…
… she fought through some adversity this season. First, her original partner, Lio, chose to leave only a few episodes into the season, and then she had to be partners with the jerk, Devin, who would never shut UP, constantly jeopardizing her game. But despite it all, she placed the second-best among all ten rookies on the season. She also is the ONLY rookie who gave us an on-air hook-up (Famously, Amber M. & Mechie's kiss in the trailer was not in the season ;/) … What's a rookie if they're not willing to get sloppy… this is MTV, after all. Well played, Gabby!
Amber B.
Amber B. is the only person to make it to the final on Double Agents as a rookie. All rookies were given a "21" pre-season placement, meaning if they make it past the first 9 people, I'm throwing them a bone (you know, with the whole rookies-go-in-first mentality in The Challenge), which is why it says Amber B. outperformed by +17 places in the rank. If you're a rookie and you make it to the final, there's an unspoken token of respect pinned to your name. It's no easy feat, not just something you accidentally stumble upon. You have to be a surVIVor of the game.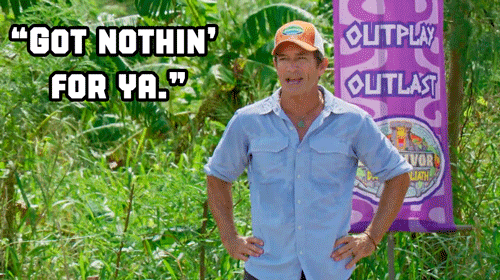 I didn't expect much out of Amber B., and I still think it's a little random she's made it this far… I don't want to diminish her accomplishments as she has successfully won two eliminations, two HALL BRAWLS, at that, but I guess I just didn't see her performing this well. If you asked me if I could only pick one rookie to make it to the final at the start of the season… it definitely wouldn't have been her (I probably would have picked the OLYMPIAN, Lolo, or Natalie from Survivor). NEEDLESS TO SAY, SHE'S HERE, IDK if she's queer, but that'd be dope if she is, BUT EITHER WAY, MAMA, WE MADE IT, and by we made it, I mean congratulations, Amber B., you're in TJ's final. 
Don't Call It A Comeback
The last three challengers that exceeded their pre-season GOAT score expectations were Big T, Nany, & Leroy-
Big T
Big T started on The Challenge being the first girl out of her rookie season, War of the Worlds II (S34). I've mentioned this before, but Johnny Bananas & Cara Maria, both legends in this game & have played +10 seasons, were the first out on their rookie seasons (The Duel (S13), and Fresh Meat II (19), respectively), so I knew Big T could come back from her first season appearance.
She returned for Total Madness (S35) but had to leave mid-game due to an injury. Double Agents being only her third season… I finally understand why the producers brought her back despite mediocre runs on her first two seasons – this girl is AMAZING. She has a magnetic quality on the screen, making you laugh & feel emotional & ultimately, she just makes you root for her!
Nany
This is Nany's 10th Challenge season & she's only ever made the finals once during Free Agents (S25). In my cast breakdown blog, I pegged Nany as someone I thought could never win a Challenge (alongside Nelson, Cory, & Jenna Compono), but the circumstances of this season make me wish more than ANYTHINGGGGGGG for Leroy & Nany to pull out the win.
Leroy
And lastly (& most emotionally, for ME), Leroy returns for his 12th season. Double Agents is his 5th time being in the final, but he's never been able to secure the season win.
I'm emo because… we see in the last episode (17) Leroy & Kam talking about how it's Leroy's last season & none of the other cast members know. For essentially this whole season, Leroy has been partners with Kaycee, and they've been BEASTing it UP, winning 5 daily challenges together, by far & wide more than any other partnership in the game.
I'll dive into it more in my episode recap, but MUCH to my dismay, Kaycee gets stolen by Fessy (although she encouraged/wanted this to happen), leaving Leroy partnerless, with the choice between Nany (eliminated Kyle's old partner), or Amber B. (Fessy's old partner who he just shirked off in exchange for the new & improved partnership of Kaycee).
At this point, I am SCREAMING BECAUSE I KNEW LEROY WOULD CHOOSE NANY BECAUSE REAL WORLD GOES DEEEEEEP & IT WAS EMO AS HELL. These two first met in 2011 on The Real World: Las Vegas (season 25, the second season to take place there), so they literally go back 10 years.
There's only about a third of the cast that remains originating from The RW, Cory & Ashley being the only two other people who have someone from their original season on Double Agents with them (both were on The Real World – Ex-Plosion (S29) which aired in 2014), all other RW-ers on this season had no OG castmates with them (CT – The RW Paris (S13), Wes – The RW Austin (S16), Aneesa – The RW Chicago (S11), & Nicole – The RW Skeletons (S30)).
Nany & Leroy are the 4th & 5th most veteran-ed challengers left in the game besides the true OG's, Aneesa, CT, & Darrell, and they've both had this career-long narrative of making it really close to winning, or in Nany's case, really close to the final many a time, but never being able to quite pull through the win. And now for Leroy's final season, they end up being partners at the very last minute, right before the final???????? You couldn't write a better story if you TRIED.
I am SO EXCITED for the finals, and I hope more now than ever that Leroy will pull this one out & secure that Challenge win on his last run (in Johnny Bananas fashion, who brought home his 7th Challenge win (the most in the history of the game) on Total Madness then dipping out from the franchise) with his OG homie Nany by his side.
Thanks for reading! ❤ 🙂